Weekend of 14th and 15th March
The first entry level slalom of the season, so those paddlers who have been practising over the Winter, now is your chance.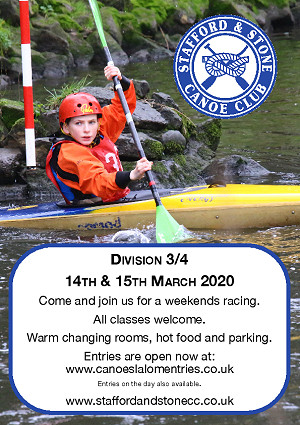 Shark coaches will be attending and supporting paddlers at this event, we can either do one day or both days depending on who wants to go and which days. You can do either day or both days as there is an event on both Saturday 14th and Sunday 15th. And, because it is a Division 3 and 4 event if you get promoted on the Saturday, you can race in Division 3 on the Sunday.
Stone is in Staffordshire and about 150 miles away and probably about a two-and-a-half hour drive. The event is run by Stafford and Stone Canoe Club, who do have some fantastic facilities at they site, which has produced some of the World's top paddlers.
If you are not a ranked paddler or a division 3 paddler and are interested in going please talk to either Neal or Rick, so we can ensure you get the support of the Club at the event. Call 07951 770241 or email: canoeing@thesharks.org.uk.
If you have previously paddled in slalom but have been out of the sport for over a year, you can apply to be re-ranked and then race again. go to the Canoe Slalom Website. A full list of our ranked paddlers is available here.
You can enter the event online at Slalom Entries.
We always want new paddlers to come along to our slalom sessions and take up this exciting discipline. We meet at Harefield on Sunday mornings at 10am (except on Sunday 15th March because  we are attending events both this one and Shepperton). We provide all the kit, so cost is not a barrier to participation. You do not need any experience, we will teach you all the skills you will require. Slalom requires you to paddle round a set course on moving water and the better you get the harder the water gets and the tougher the competition. So you will always be within your capabilities but always be being challenged.