Just How Fast Can You Go
Canoe Sprinting is about making the boat go as fast as you can on flat water normally over distances of 200 metres or 500 metres.
At National and International events, the races take place on lakes marked out with lanes, like a giant competitive swimming pool, in the UK national events take place at the National Water Sports Centre at Holme Peirrepont in Nottingham, as well as national races there are regional events, one on London often takes place in the Docklands, there are also a number of other local club events.
We have facilities to train for Sprint at all of our current three sites, Southall, NW10 (Harlesden/Park Royal) and Harefield, however, at the moment these disciplines are concentrated at Havelock Road, Southall UB2 4GG and Disraeli Road Carpark, NW10 7AE, although there are plans to extend and include Harefield, which we will do on Troy Lake.
As with all the disciplines The Sharks are involved with, we supply all the kit, so cost is no barrier to participation, all you need to do is going us, why not contact us by email: sprint@thesharks.org.uk or call 07951 770241. You can turn up and meet us at one of our sessions.
What is a Sprint Racing?
Normally races are over 200 or 500 metres, although at National events there are races of 1,000 metres and sometimes some longer distances races. The events are broken down into the different classes you can race: K1, K2 and K4, that is sitting in Kayaks using a double bladed paddle in boats that hold 1, 2 or 4 people; there are also Canoe races in singles doubles and fours, C1, C2 and C4, in these you half kneel and use a single bladed paddle. The races are also divided into age groups and within each gate group there are divisions.
You race in lanes and have heats and finals, it is very fast and very exciting.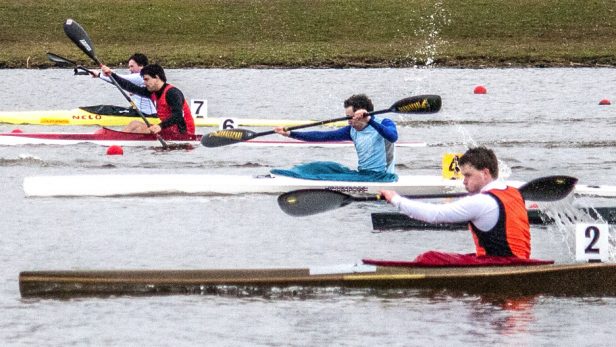 National Races usually take place in April, May, June, July and September and all levels and standards compete at the same event, so there will be people doing their first National Race and also the Countries top paddlers will be racing there as well. To be able to race at National Races, you need to reach a qualifying time, but this can be done at any other event.
At National level the racing is formal, you line up with the front of your boat in a starting bucket, and "on your marks, get set – go" the bucket drops and you paddle as fast as you can. You also have to wear Club Colours.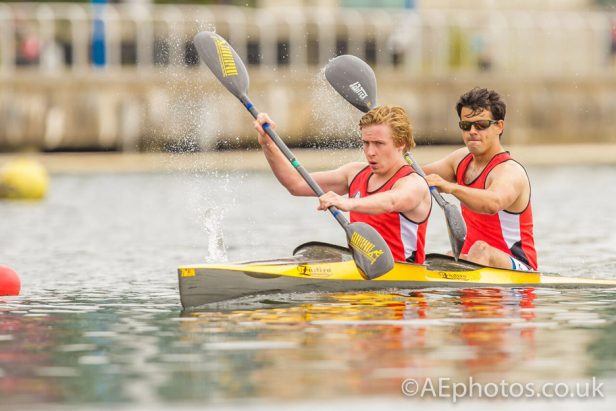 Regional Races take place at the London Rowing Centre adjacent to London City Airport, which provides an interesting backdrop to the race, especially when a plane is taking off. These races are less formal and are designed to getting Club padders involved and gaining experience for National Races.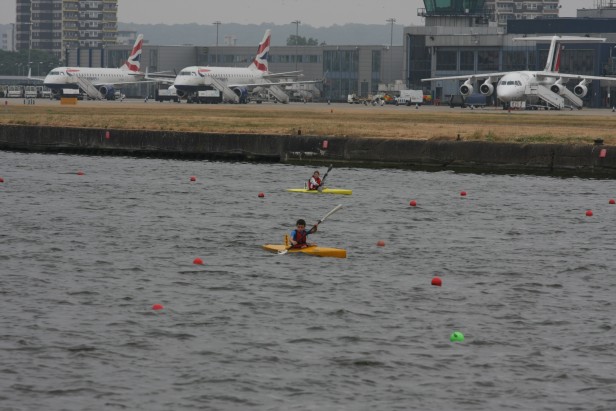 Then there are local races, designed to get people involved, get qualification times, see how they are progressing, so important to every one in the Club, these races are about having fun, but also about seeing how you are doing, have your times improved? The can take place at a number of locations from the canals to local Rivers.
Moving Forward
The Sharks have been entering Sprint Regattas for about ten years, with a peak when we took third place in the London Regatta, pretty impressive for a Club that has only been around a few years, in 2016 we surprised more than a few people when on of our paddlers won the London Youth Games Sprint event, breaking the monopoly of the big Clubs. We need now to build on this and with the facilities coming on line at Southall, NW10 and Harefield, we have a chance to become one of the Countries top Sprint Teams, it will take time and it will take some hard work but we know we can do it, we have a reputation or attracting some of the top coaches, we have some fantastic kit, all we need is the paddlers to come along and give it a try.
Give us a call on:07951 770241 or drop us an email: sprint@thesharks.org.uk.