Joel Gunnery becomes the London Youth Games Junior Sprint Champion.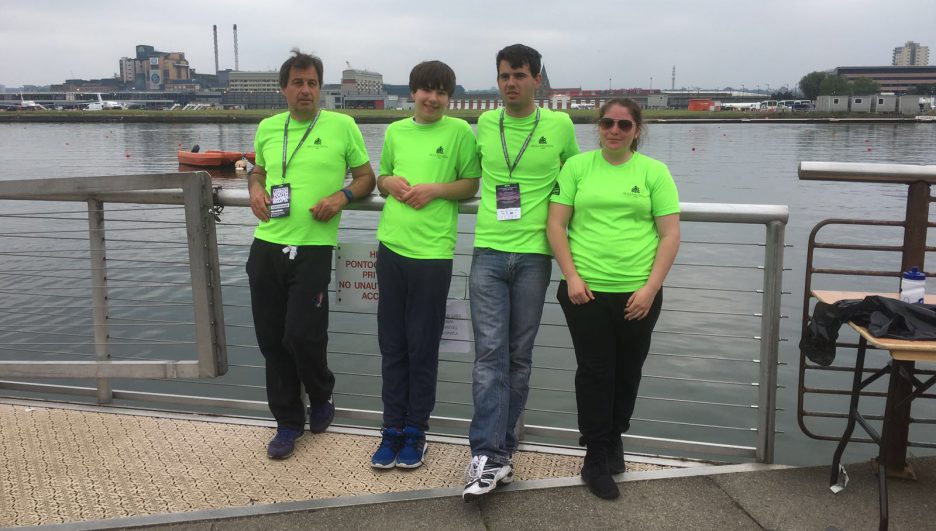 The Hillingdon Shark Team L to R Neal Underwood (Team Manager), Joel Gunnery, Grant Underwood (Team Coach) and Lianna Nolan
Lianna Nolan and Joel Gunnery, were representing the London Borough of Hillingdon in the London Youth Games on Saturday 4th June 2016, a festival of sport involving teams from all the London Boroughs. The Kayaking event took place at the London Regatta Centre, which is what was the Royal Albert Dock.
The first event was the slalom and although Joel Gunnery was the fastest junior paddler, he collected a few penalties which were unfortunate and kept him out of the final. Lianna was clean and finished 10th overall.
But it was the Sprint event in which The Shark paddlers shocked the established clubs. First up was Lianna, who qualified for the final and took 6th place, Joel Gunnery claimed a final spot with ease in his heat and then after a shaky start in the final powered through to over take the rest of the field an claim first place in the Junior 200m Sprint, the first time a paddler from Hillingdon has ever won a kayaking medal in this, Europe's largest youth sports festival.
This event is part of the amazing rise of The Sharks, which has seen the Club grow from strength to strength, in the few years we have existed, we have become London's number one Wild Water Racing Club, we have had a paddler represent Great Britain at the under-23 World Wild Water Racing Championships and now we have a London Youth Games Champion. Congratulations go to our paddlers and thanks to our great coaching team: Beata Fabińska in Spring and Gordon Walling in slalom. We still have a lot more to achieve: if you are interested in finding out more call Neal on 07951 770241 or email: canoeing@thesharks.org.uk.
Gordon coaches slalom at Harefield on Monday evenings from 6pm, sessions start at 5pm. New comers always welcome
Beata coaches sprint on Tuesdays ad Fridays at Sac, sessions start at 4pm, with experienced paddlers at 5pm. New comers always welcome