Tuesday evening at 6pm
The swimming pool is the ideal way to start your canoeing this year. The Sharks will be holding session every Tuesday evening at Hillingdon Leisure Centre, Uxbridge at 6pm. Every one is welcome.
You do not need any experience, if you have never paddled before, this is the ideal place to start; if you have and you want to get back involved then come along and have some fun.
You do not need any special kit as The Sharks will provide the boats, paddles and other relevant kit, just remember it is outdoors, so dress appropriately for the weather.
You can be any age, you are never too old. Canoe sport is an ideal exercise, it is an exciting sport, so fun, fitness and a great experience all in one evening.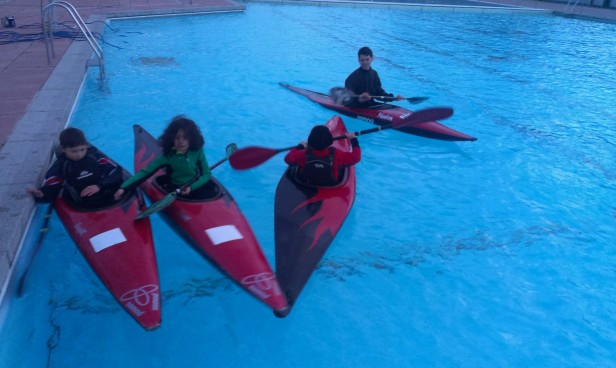 We will develop your skills and confidence so that you can come along and paddle at our other sessions. We have family sessions at Osterley Park, we are London's number one Wild Water Racing Club, we host weekly slalom sessions at Harefield and we have a fast growing Sprint section training at Southall and Osterley. We will also develop a Canoe Polo team at Uxbridge. So come alomg, there is something for every one. We have top quality coaches, who can take you to the highest levels, if that is where you want to go, but equally if you just want some fun and fitness, then we can provide that as well.
Each session at the pool cost just £6 and is for a minimum of half-an-hour. For more information, please call Neal on 07951 770241, or email: canoeing@thesharks.org.uk.