You are not Alone, you don't need to be Alone
We have a solution, we have set up a WhatsApp group called Paddle Pal, where you can make arrangements to paddle with someone in keeping with current Covid-19 restrictions regulations.
Current Government regulations mean you can take part in outdoor sport but only with one other person or in your family/support bubble. So in keeping with these regulations we have set up a WhatsApp group called Paddle Pal, enabling paddlers to find out who is available and when they can paddle.
However, since setting up Paddle Pal, restrictions have changed, we are now in Lockdown again, so although outdoor exercise is permitted, our Club Facilities must remain closed.Therefore, we are using the WhatsApp group to help people keep in touch and to motivate each other to exercises. You are most welcome to join us, however, before you do, please take a look at the Principles of Training web page.
Please not this is not to circumvent the Government's restrictions but is to enable people to exercise and keep fit within the restrictions that have been introduced to control Covid-19, providing an opportunity to paddle. This was initially  for our Slalom Paddlers at Harefield (we had other plans for other sites, which have been kiboshed by Lockdown 3) so are now opening it up to all our members across all our sites with the aim of keeping people active, motivated and in touch during Lockdown). If you wish to be added to the group, please email us: slalom@thesharks.org.uk or text us on: 07951 770241.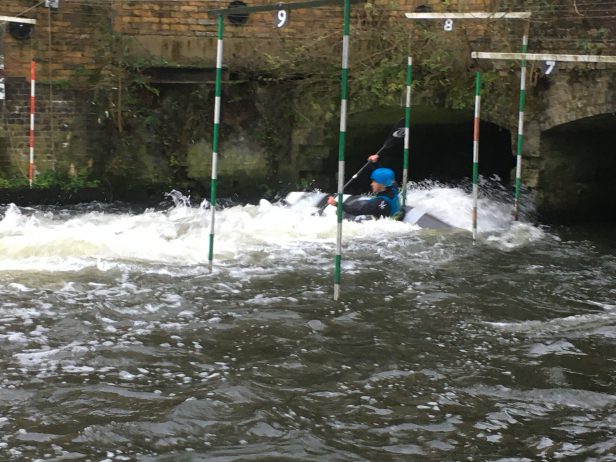 Paddling
Please not, these sessions are purely private arrangements, and are not Shark sessions, if you need to borrow Shark kit, please contact us before hand (this is purely to ensure people who need kit are not going to turn up and find somebody else has taken it).
There are certain rules we would request you obey, they are purely for safety reasons; anybody not keeping too the rules will be removed from the Group.
Safety requirements are that you should not paddle alone
No breaches of Government Tier 4 regulations (only two people or people from one support bubble). If there are two separate groups paddling, please maintain proper Social Distancing when on the water and elsewhere.
At least one of the paddlers should be over 18-years-old.
For more information please contact: 07951 770241 or email: slalom@thesharks.org.uk.
This is to enable people to keep paddling, please feel free to send us pictures so we can keep momentum and motivation going in the Club, post in Instagram using #teamthesharks.
We will soon be offering an opportunity for paddling at Southall, so please do keep visiting the website for latest updates.