We have moved, but only slightly
From now on the meeting place for our sessions in Southall will be just in a slightly different place, just 200m further along the canal, but providing us with far better options so we can improve what we do.
Please take a look at the pictures and see where we are meeting. The location is where  the Willowbrook Road is closest to the canal. The dropped pin shows exactly where we meet. However, if you come by car, please continue to park next to the green, marked by the "Sharks in Southall" pin, the post code for here is UB2 4GG. There is no parking in Willowbrook Road. The walk from the green is only 200 metres.
Sessions at Southall currently take place at 5pm for new paddlers and 6:15pm for race boat training. For more information email: marathon@thesharks.org.uk or call 07951 770241.
We now also accept payment by PayPal, or you can search: canoeing@thesharks.org.uk or the telephone number 07951 770241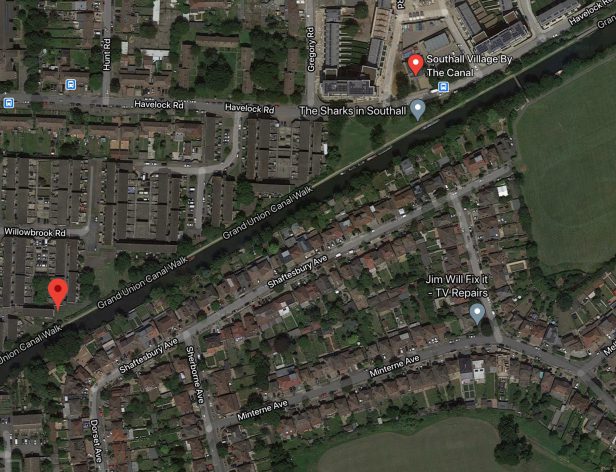 This new place is where we will be storing the boats and other equipment from now on, making it easier and quicker to get everything in and out.
We will be developing this site to provide full Club House facilities, including changing rooms, with showers and toilets as well as a community gym for land based training (with our paddling machines during the Winter) as well as a kitchen/café facilities for refreshments afterwards (or during for parents who don't want to get on the water). This project is very much in development and we are working very closely with the London Borough of Ealing and Catalyst Housing, who are the regeneration partners for the area, both of who are incredibly supportive of The Sharks.
We have also secured money from Sport England, to create the Community Gym, another organisation that has been very supportive of The Sharks over the years, so thank you Sport England.
We would like to thank Three Bridges Primary School, who have been storing our equipment for the past few years, this is a great partnership, which we will be able to develop even more when we get our great new facilities.