Pushing Yourself to the Limit
Long Distance Racing in canoes and kayaks takes a number of forms, but it is exhilarating, tactical, fun and rewarding. At entry level races are just a few kilometres on flat water.
Most ranking marathons are on flat water, although decent racing can be a Long-Distance Race on some challenging Water.
We have facilities to train for Marathon at all of our current three sites, Southall, NW10 (Harlesden/Park Royal) and Harefield, however, at the moment these disciplines are concentrated at Havelock Road, Southall UB2 4GG and Disraeli Road Carpark, NW10 7AE, although there are plans to extend and include Harefield.
As with all the disciplines The Sharks are involved with, we supply all the kit, so cost is no barrier to participation, all you need to do is going us, why not contact us by email: marathon@thesharks.org.uk or call 07951 770241. You can turn up and meet us at one of our sessions.
What is Marathon Canoeing?
Canoe Marathon covers a number of types of races, at the Centre are the ranking races called Hasler Races, named after Herbert Hasler, there are also a number of shorter fun races that many Clubs, including The Sharks organise and all a number of other challenging races over different distances, including the famous Devizes to Westminster Race, and decent races, such as the Liffey.
The one thing the races have in common is they are over longer distances, if there are obstructions such as locks, then the competitors have to get out and run round them with their boat, this is called portaging and it has its own techniques and skills. Long distance racing can also be quite tactical, using other paddlers wash to hitch a ride, getting the best place at a portage, making the best use of the water in the river – tucking into eddies when going up-stream but using the power of the stream when coming down and  knowing when to sprint for the finish.
Hasler Races
The National Ranking System for Marathon Racing in the UK, there are nine divisions, with the top division is Division 1 and races in this level are 13 miles, the devisions below are shorter distance and the very low divisions are for youngsters and can be as short as just two miles.
The races start in mass starts, each division and class has its own start, but everybody in that race must vie for the best place to start the race. As you get better the course get longer and the competition gets harder.
Hasler Races are regional, The Sharks are in the London and South East Region, although Harefield boarders, London South East Region, Eastern Region and Southern Region, you can take part in races in other regions than your own, but you only get Hasler points in your own region. at the end of each season the top teams from each region compete at the Hasler final, which decides who the top paddlers are and which Club is the National Champion.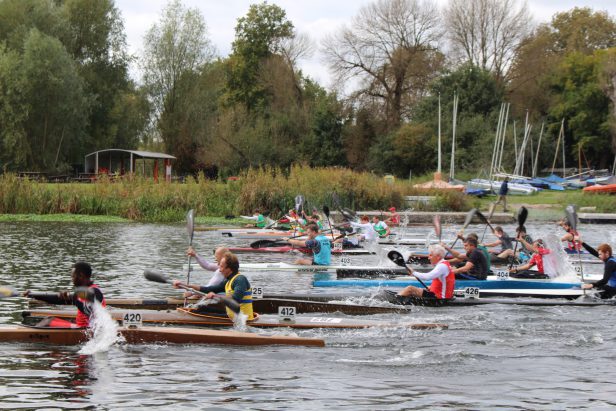 The Sharks have paddlers who race Marathon and have a very experienced coach in Tristram Turner, who leads or Marathon Racing Section, with the developments at Southall, NW10 and Harefield there is no reason why we should not become one of the top Marathon Racing Clubs in the Country, all we need is you. For more information come and visit us or give us a call on 07951 770241, email: marathon@thesharks.org.uk.
Other Races
There are many other long-distance races of varying lengths and varying water standards, we have already mention the DW (Devizes to Westminster Race), this is 125 miles from Devizes in Wiltshire to Westminster Bridge in London. It goes through a tunnel and there are 77 portages, in Senior doubles you do it all in one go, paddling through the night, for Juniors and singles it is a stage race over 4 days. In the senior race you have to ensure you hit the tidal Thames at just the right time to get the tide to help you, so you need to estimate how long it will take and you set your own start time accordingly.
To finish the race, you need support and you have a car based support crew who follow the race and meet you at key points to feed you and generally check up on you. It is an amazing experience and we want to start preparing crews for future years. So if you are interested get in touch on 07951 770241 or email: marathon@thesharks.org.uk. It takes a lot of preparation, planning and training to do this race, but it is incredibly rewarding. Ideal for some High School Groups, Scouts, our partner Universities or anybody else interested. As part of the preparation there are build up races to help you learn the course and prepare for the event as well as many other races you cam do.
There are also a number of other long-distance races in other Countries, lots of fun in the sun ..
Decent Races
These are similar to Marathons, in that they are longer distance races, but they also include the element of rough or moving water often going over weirs. The races are exciting, fast and fun, the Liffey Decent in the Republic of Ireland is a well known and well attended race, another venue we are keen to return to.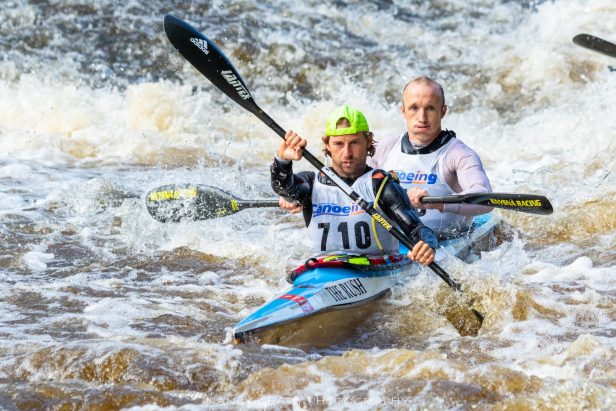 There are also a number of similar races in the UK and and on the Continent so again plenty of opportunities.
Local Races
There are a number of local Club races that take place throughout the year and through the Winter. The Sharks organise races and are going to resurrect their series of races, including events at Harefield, Southall and NW10. They are an ideal place to start, to learn the format of racing, learn how to pace yourself, understand the rules see how well you are doing as you can compare your times with the last event, but above all they are fun and open to everybody of any standard.
Take a look at some of our previous races: