5th – 8th August
Suitable for every level of paddler who has attended a Slalom session at Harefield. So no excuses!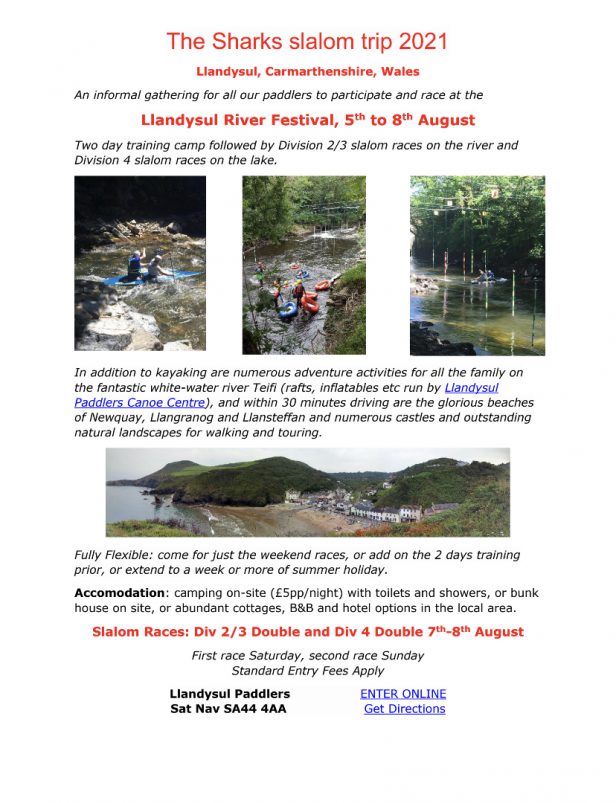 All the details are on the poster. It is a fully flexible trip, you can come along just for the race, or you can come along and get some practice, training and just have some good old fashioned fun on the river!
On Saturday 7th and Sunday 8th August is the ranking slalom. The Division 2 and 3 events take place on the River Teifi, at Llandysul in South Wales. It is about a 4 hour drive from Harefield (220 miles), it is set in a stunning area of South Wales. The Canoe Club, Llandysul Paddlers have bunk house accommodation you can use. There is camping on site or plenty of other accommodation from bed and breakfast to hotels, or cottages to rent.
The Division 4 event is on the lake adjacent to the River, get promoted on the Saturday and you can race in the higher division on the Sunday!
In 2020 we held a training weekend at the site, it was great fun and a great weekend. So why not come along have some fun and get away for a few days?
For more information talk to Rick at any of our Slalom training sessions, email us: slalom@thesharks.org.uk or call 07951 770241.
Entries are available online by clicking here.