In the year's Thameside I race
Sharks' Coach Tristram Turner was in action at the weekend in the Thameside I race from Aldermaston to Reading a distance of 12 miles and has twelve portages.
He was racing Kayak Doubles with Daniel Palmer and they completed the race in 1 hour, 34 minutes and 6 seconds, taking second place. Well done guys.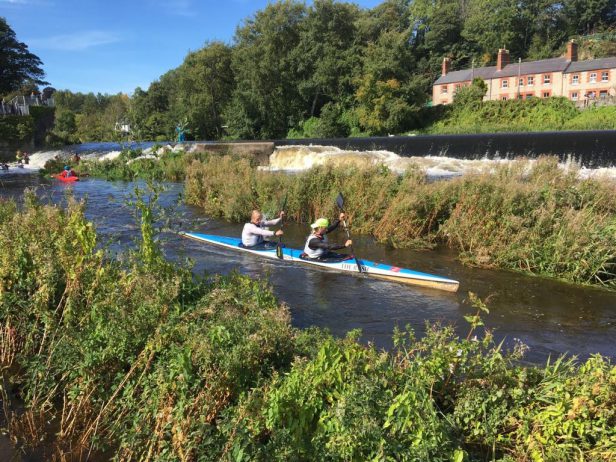 Tristram and Daniel are racing in the Devizes to Westminster Canoe Race at Easter, a distance of 125 miles from Devizes in Wiltshire to Westminster in London, the race also has 77 portages, Locks where the paddlers have to get out and run round barring their boat.
Tristram has won this race on previous occasions and we obviously wish hime well for Easter, he is currently training specifically for this race, but is still taking our racing sessions on Saturday afternoon at Havelock Road in Southall, your chance to join in and paddle with a champion.
The Sharks are looking for people of all ages to build up and prepare for this race of races in 2021, we are interested in teams from Schools, other sports, people who want a challenge and want some fun. As well as this race we are looking at a number of local, regional, national and overseas races. Great fun, you do not need any experience or kit as wee will supply you with both.
For more information please give us a call on 07951 770241 or email: canoeing@thesharks.org.uk.You can just turn up to one of our sessions. We also paddle at Harlesden, NW10 on Sunday afternoons, during the Summer months we paddle on weekday evenings. We also hold sessions at Harefield and will be introducing more sessions.
Come along, join the fun share the success.