Help Us Build Our Club
Thank-you to everybody who has been involved in The Sharks this year, coaches, participants, parents, staff, helpers and our partners.
As many of you will know we have launched a Crowd Funding Page with SpaceHive to convert disused garages into a base for our canoe club at Havelock. We have had many pledges so far.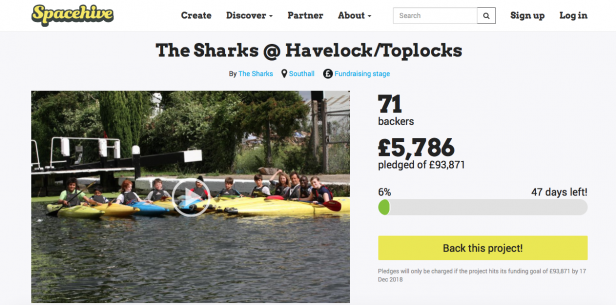 Now we need to move two the next phase!
Although we did not get a pledge from the Mayor of London, we are confident we can make this happen, we have other irons in the fire as they say. But now we need a different kind of donation. We are looking for commercial donations, something on a slightly larger scale. So if you are involved in a local company (or even a non-local company, who might be interested in promoting our project) who maybe willing to make a pledge or a donation, please do get in touch; canoeing@thesharks.org.uk, or call 07951 770241.
If you still wish to make a donation yourself, it would be very much appreciated, just click here.
By this Time Next Year ….
We will be celebrating in our new premises at Havelock, we are also confident that we will also have our new boat store at Harefield, with access to the club facilities at Rickmansworth Sailing Club. In order to manage this we will also need the help of the community. The Club is growing and we need your help to run it, would you like to be involved in one of the most exciting Community Canoe Clubs there is? Just by being with us you will be helping to deliver opportunities to people across West london, Southall, Ealing; Osterley, Hounslow; Harefield, Hayes, Uxbridge, Hillingdon; Harlesden, Brent.
We know we can do this, but only with you helping us; for more information email: canoeing@thesharks.org.uk or call Neal on 07951 770241.