Have your say and help The Sharks Get more for Paddlesport
After months of planning and talking with stakeholders, including The Sharks, The Old Oak Common and Park Royal Development Corporation are going through a public consolation process and want your views.
Please log on and give your support.
The following is from the OPDC Website
"Harlesden Canalside – Have Your Say
OPDC, in partnership with Brent Council and the Canal & River Trust, is bringing forward improvements to Harlesden Canalside for local residents, businesses, boaters and visitors.
The project is part of a £1.2m community investment, funded by the Mayor's Good Growth Fund, to bring forward a range of improvements to public spaces on the canal.
A planning application will be submitted to Brent Council in April and the public space improvements are expected to be delivered in the second half of 2022.
The Harlesden Canalside Masterplan. Head to the Documents section at the bottom of this website to download detailed plans and descriptions.Plans include:
A Boaters' Hub at Steele Road
At the far end of Steele Road a new hub for boaters roaming the canal will provide space and kit for maintenance and small boat repairs.Proposals aim to make sure boat repair, walking and cycling can happen side-by-side here, while also rebuilding the entrance to the canal providing step-free access to the towpath for walkers, cyclists, wheel chair and push chair users.
A Canal Garden and outdoor activity space
When the sun is out this area is the perfect spot for sitting on the grass or eating lunch under the old willow trees with an open view over the canal onto the wildlife on the other side. Proposals seek to create a park-like feel to this area, and provide a landscaped amphitheatre for community gatherings and performances. Two dedicated mooring spaces for narrow boats operated by local groups will also be created here.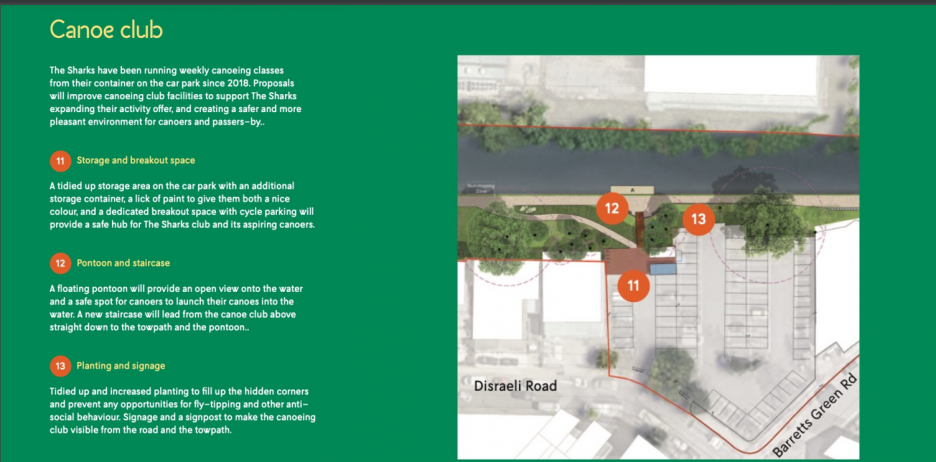 The Sharks Canoe Club
The Sharks have been running weekly canoeing classes from their container on the car park since 2018. Proposals will improve canoe club facilities with additional storage, safer breakout spaces, a pontoon and new stepped access to the towpath. This will support The Sharks expanding their activity offer, and create a safer and more pleasant environment for canoers and passers-by.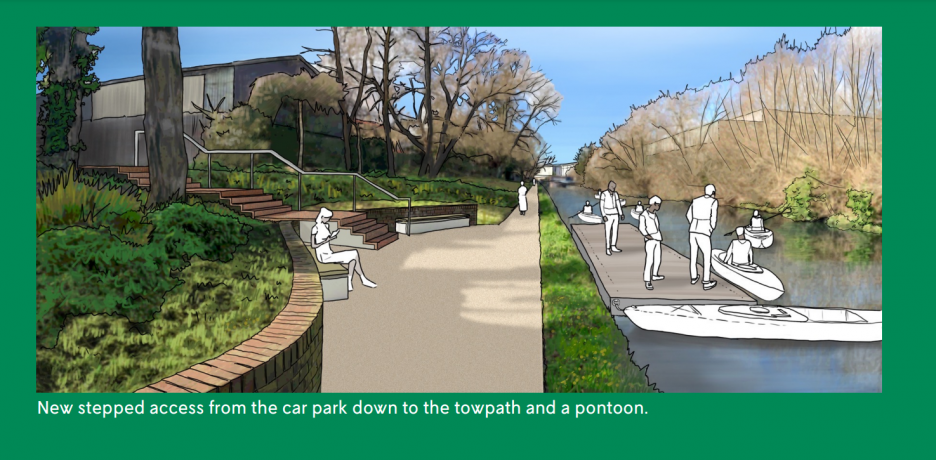 Acton Lane entrance
This is the entrance point to the canal for everyone coming from Harlesden or the heart of Park Royal. But the canal is surprisingly hidden in this area. Proposals will create a proper entrance to the canal by making it more visible and improving the existing steps down to the towpath."
Have your say on the plans
Before we finalise detailed designs and submit a planning application to Brent Council, we are now holding the final round of public consultation so you can have your say on the masterplan and concept designs.
Between 16 February and 2 March 2022 you can view the plans, meet the team and leave your feedback:
Head over to our events page to find out more about our consultation events and register to join."