The Revenge of The Slalom
We are winning the war on Covid-19 and Slalom is leading the way!
A great weekend of racing at The Shark organised slalom at Shepperton, the home or Shepperton Slalom Canoe Club. A big thank you to them and every one involved, staff, volunteers, paddlers, coaches and parents. We would also like to the Peak UK for supporting this event. Read their report here.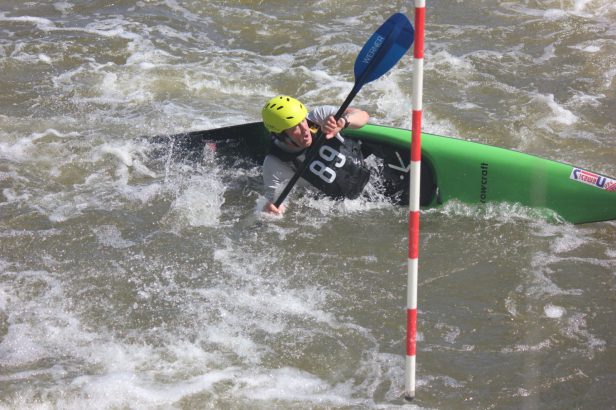 We were blessed with great weather, the first for a long time, and we were listed by paddlers from the Midlands, the South Coast, Welsh Boarders and the West Country, brining Slalom Canoe back to Life. Full results are available for: Saturday and Sunday.
I think it is fair to say that the water levels on the Thames made this a challenging course for Division 3 paddlers, and very challenging for Division 4, so well done to everybody who took part. And thank you to Gordon Walling from Shepperton SCC who designed the course and made excellent use of the water in what were difficult conditions.
Great to see some new Shark paddlers taking place and congratulations to everyone who took part.
Saturday
Shark paddler Joe Pawley made his debut in the Men's Division 4 K1 event and came second, whilst Tasmeen Khatra, came third in the Ladies' Division 4 K1 in her first event. Weld done to both of you and look forward to seeing you back in action soon.
Alex Aldred came 6th in the Men's Division 3 C1 and picked up 71 points.
Sunday
Another debut, this time by 11-year old, Aron Moussaioff, who was first J12, well done.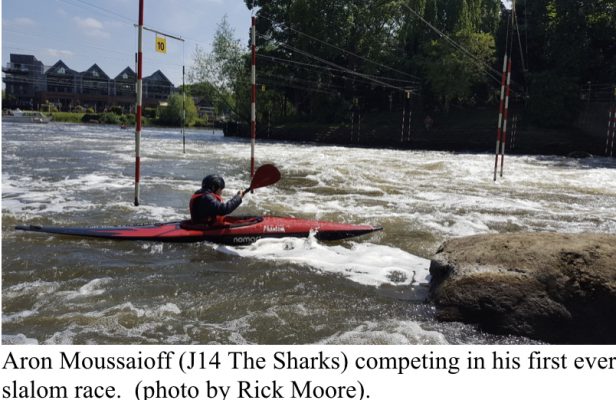 Shark performance of the weekend goes to Aaron Nolan who came in second in the Men's Division 3 K1 for the second week running, picking up another 233 points towards gaining promotion.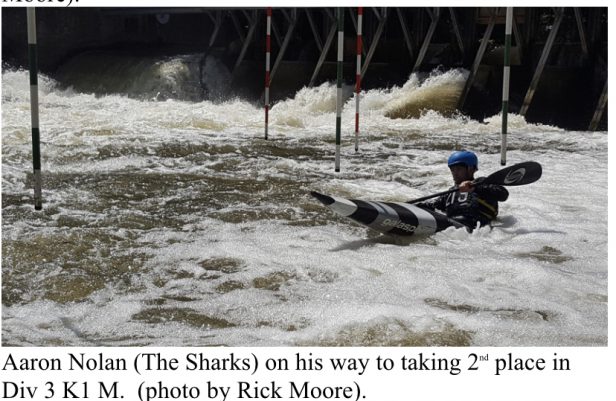 Also in Division 3 Men's K1 was Gavriel Moussaioff, who was racing for the first time since his promotion in 2018, he came in 15th and picked up 17 points and is currently ranked 66th in Men's Division 3 K1.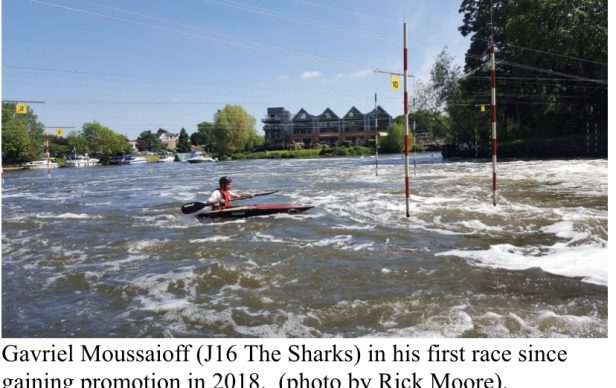 Alex Aldred was the only Shark paddler racing both days and he came 6th in the Men's Division 3 C1 adding another 42 points to his season total.
Peak UK prize Draw
Peak UK were giving away £50 vouchers to two luck winners, who were: Eleftherios Chatzilamprou from Reading Canoe Club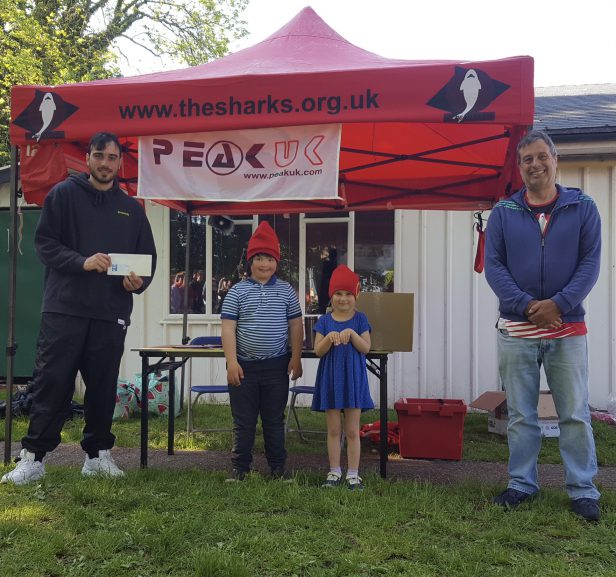 and Charlie Joy form Shepperton Canoe Club, the draw was made by Jasper and Vera, pictured with Eleftherios Chatzilamprou and Neal Underwood.
Once again a big thank you to everyone involved and hopefully see you all again at Shepperton on teh weekend of