Holiday Paddling with The Sharks
School Holidays provide plenty of opportunities for Summer paddling with The Sharks.
We will continue our Saturday and Sunday family sessions at Osterley Park and will also add in Wednesdays.
Want to take the sport a bit further? well there are plenty of opportunities for both experienced and new paddlers:
Monday and Friday will be slalom day, we will host sessions at Harefield at 10am,
Tuesday and Thursday will be Race Days, with sessions at Southall Activity Centre at 10am.
There will be opportunities for beginners at all sessions, please contact Neal on 07951 770241 or email canoeing@thesharks.org.uk.
Come along and give it a try, spread the word. please feel free to pass on our contact details our website of the poster.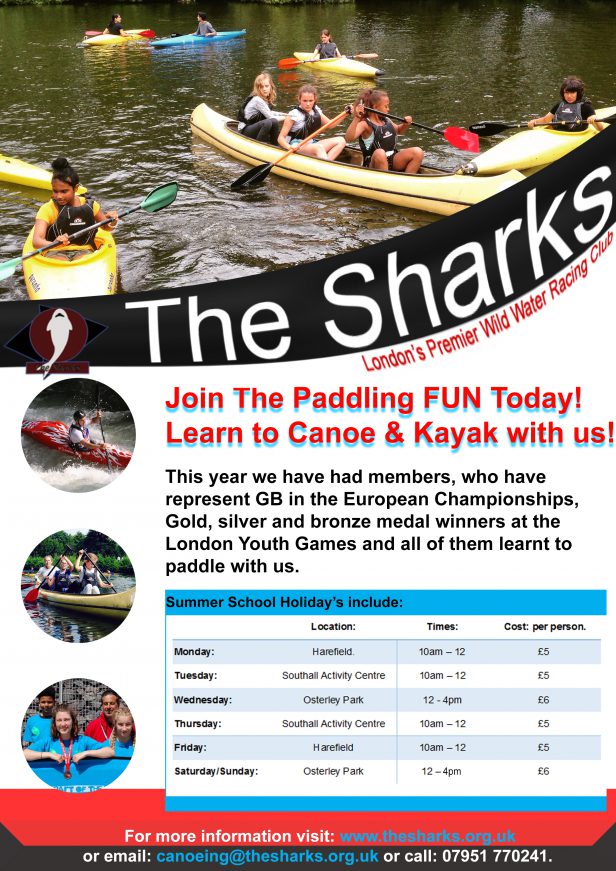 We hold sessions in the Boroughs of Ealing, Hillingdon and Hounslow. We want to build a massive participation club, for families, people of all ages and all abilities. We participate in Marathon, Slalom, Sprint and Wild Water Racing and want to add to our already successful competitive sections.
Join one of our sessions at: Hillingdon Leisure Centre, Osterley Park, Harefield or Southall Activity Centre
We provide all the kit, all we need is you.