Last Chance for our Division 4 Paddlers
Yes a division 4 event has been added to the Shepperton Slalom on Saturday 20th and Sunday 21st October. So if you have paddled on the weir at Harefield and have not been promoted to Division 3 yet, this is an ideal opportunity for you and will be the last chance to complete in 2018.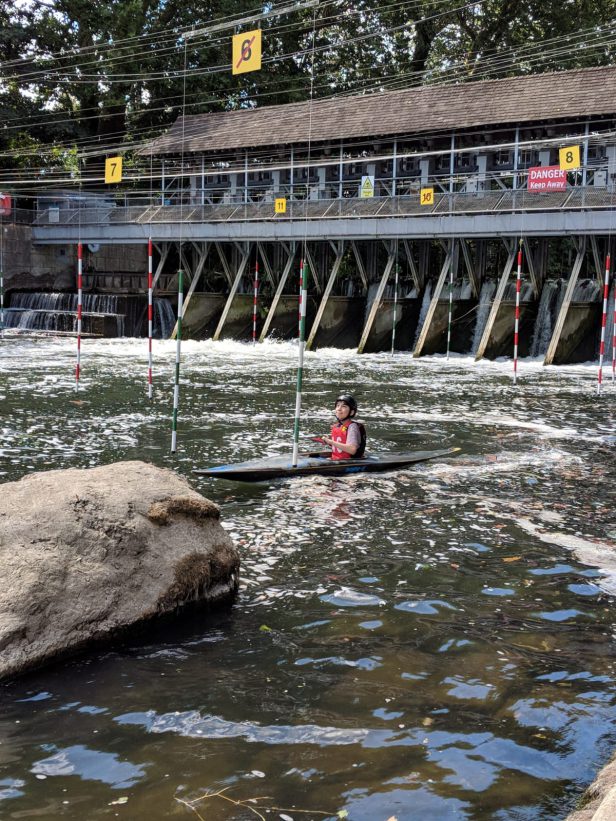 We cannot guarantee the water flows at Shepperton, which has the potential to be very rough during the Winter, but at the moment has less flow than Harefield, so would be suitable for all our paddlers who have been on the gates at Harefield. The picture above was taken earlier this year.
The course will be different to the Division 2 and 3 course, so if the water is slightly higher Division 4 paddlers will not be going near the weir. So an ideal entry event.
If you want some advice, talk to Neal on 07951 770241, email neal@thesharks.org.uk, or chat to either Neal of Rick at our session on Monday at 5:45pm at Harefield.
Shepperton is about 26 miles from Harefield and about a 40 minutes drive, the location is on the River Thames at TW17 9LW. If you are in Division 2 or 3 for any class please enter by clicking here. If you are not yet ranked, why not come along and support Shark paddlers, see what the sport is all about, have some fun and enjoy a day be the river. Shepperton Canoe Club is very supportive of The Sharks, so it would be great if we could help them by having a good turn out at their events.
And whilst you are here, please help with our pledges: www.thesharks.org.uk/we-need-more-pledges. If you have already pledged, thank you, if not please do even, if it is only £2, it is about showing support to unlock the £50k. And please spread the word ….