Well Done and Thanks
A great job done today by the team of volunteers, clearing the site for our new boat house at Rickmansworth Sailing Club in Harefield.
Rick, Richard, Nicci, Jean, Mary, Grant, Khaleel, Sam, Catherine, Alice, Daniel and Neal
Phase one complete, the old building is down.
We are planning to build a boat store on the site, which will be a permanent home for our slalom boats and kit, we will also store a few racing boats here so that people can try some different disciplines.
This development will make a big difference to The Sharks, it will enable us to host more sessions more often, thereby offering more opportunities to more people and also offering more training sessions to paddlers so that can improve their performance at events. This facility should help The Sharks become a major slalom club.
It will also reduce cost of brining boats out for each session, help the environment and we reduce our carbon foot print.
After a days work we now have a site that needs preparing for construction, this means laying a base so that we can build the shed on it.
We also have quite a bit of rubbish to clear from the site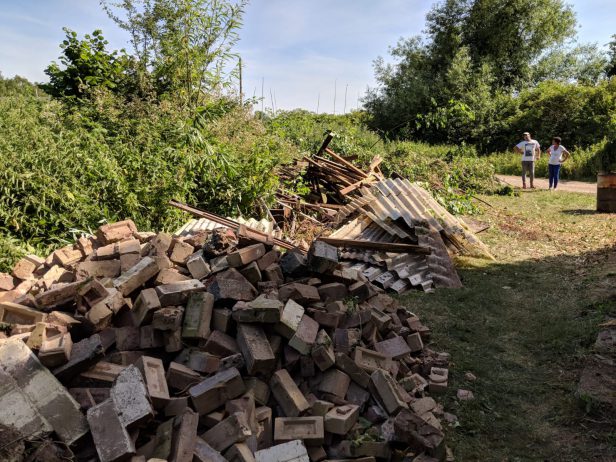 Some of the bricks will be reused for the base, we have a lot of combustable debris, any pyromaniacs out there fancy a good bonfire?
Now we have cleared the site, we can collect £2,000 of materials from Wicks, as part of funding deal with Volunteer it yourself. Now we need volunteers to help us construct the boat store, we will need skilled people to help manage and teach the volunteers to do the work, we are looking for a volunteer workforce between the ages of 14 and 24-years old. For the next phase.
Like all Shark activities fun was part of the day. We had a BBQ on site and finished the day with a drink in the bar of the sailing club.
These two are now available for hire, for entertainment purposes only
If you can help us develop this site, please get in touch, be email: canoeing@thesharks.org.uk or call Neal on 07951 770241.
A few more pictures from the day