These sessions are currently suspended due to Covid-19 restrictions.
With the easing of  Covid-19 restrictions, we will be resuming our Saturday afternoon  sessions at Harlesden/Park Royal (NW10 7AE) on Saturday 5th December.
We will be running two sessions at 1pm on Saturday afternoons, with one session for  beginners and less experienced paddlers and the other one for  more experienced paddlers who can use racing boats (2pm).  We are meeting at the Container in the carpark at Disraeli Road, NW10 7AE. We are next to We are next to the Beit el Zaytoun Restaurant in Park Royal, which is just a few minutes walk from Harlesden Station. So very easy to get to. We highly recommend Beit el Zaytoun, and there is also the Grand Junction Arms just across the canal for some post paddling refreshments.
Sessions cost just £5 per person, there is no upfront costs or booking for a course, so no financial commitment, we provide all the kit required. You can by by bank transfer (please email for details) or by PayPal, please mark payment a personal as this saves the Club money.
Due to Covid-19 restrictions it is important that you let us know if you are attending, so we can plan safe sessions for all participants and staff. To book in please either call us on 07951 770241 or email sprint@thesharks.org.uk.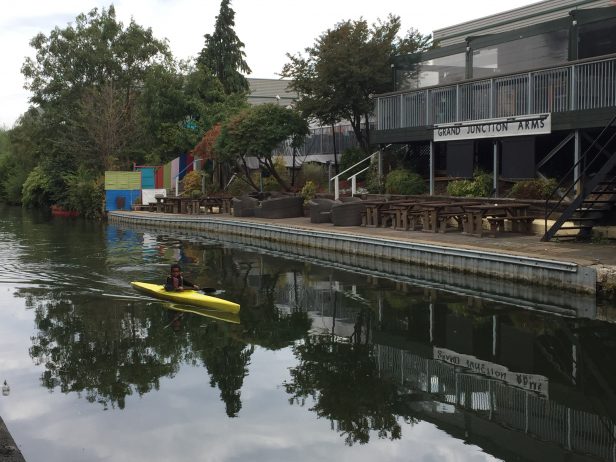 If you are interested or want to know more, please contact us; either phone on 07951 770241 or email us at: sprint@thesharks.org.uk, We will be training and coaching people of all ages to use racing boats and when competitions restart after Covid we will be entering Marathon and Sprint races, some local, others further afield, but always fun. Currently the sessions are being run by an experienced racing paddler Adam Stewart.
We will continue paddling all through the year, it is our intention to provide training for people who want to take the sport up competitively as well as for those who enjoy recreational paddling.
How to find us in NW10 (Harlesden/Park Royal)