Please note, due to low water conditions, this event has been cancelled
And there are two Shark paddlers racing there, both as paddle ups from Division 2 (a system that allows paddlers to race in the division above their ranking if there are spaces and to gain extra points).
Our top ranked male paddler James Read (bib number 64) and Jacob Simpson (151) will be The Sharks first slalom paddlers to take to the circuit this year, we wish them both the best of luck.
James has been paddling for The Sharks for a number of years and has recently become the Club's top ranked paddler a position he is going to have to work hard to maintain.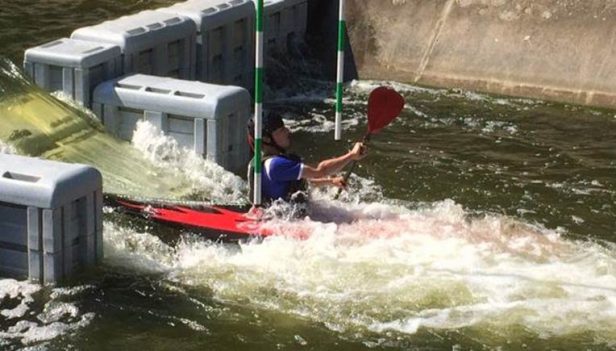 Jacob Simpson is one of The Sharks' fast rising stars and was promoted to Division 2at the last race of the 2018 season.
Both paddlers will be returning to Shepperton the following weekend to race in the Division 2 event at the same location. The event is organised by our close friends at Shepperton Canoe Club. If any Shark members would like to come and watch the event and see what slalom is all about, you will be most welcome. It starts with practice at 8am, the competition starts at 10am and will be finished by 5pm. You can come for the whole day or just part of the day, it will be a great day out, there is no charge to watch and there are refreshments available on site at Shepperton Weir, Ferry Lane Shepperton TW 17 9LW.
In order to support our paddlers in the new slalom season we will be hosting a training session on Wednesday 20th February at Shepperton Weir, this is a great opportunity for paddlers of all levels to try and experience different water and different sites: www.thesharks.org.uk/half-term-sessions.
If you want to join our slalom team, get in touch by calling 07951 770241, or emailing: canoeing@thesharks.org.uk. You do not need any experience or equipment as we can provide everything and we are always looking out for new people to join us. We hold sessions at Harefield on Sunday mornings in the Winter months (November – March and when we are not away racing) and during the Summer months (April – October) on Monday and Wednesday evenings. For more information check out our slalom page: www.thesharks.org.uk/winter-slalom-sessions.