Sharks Shine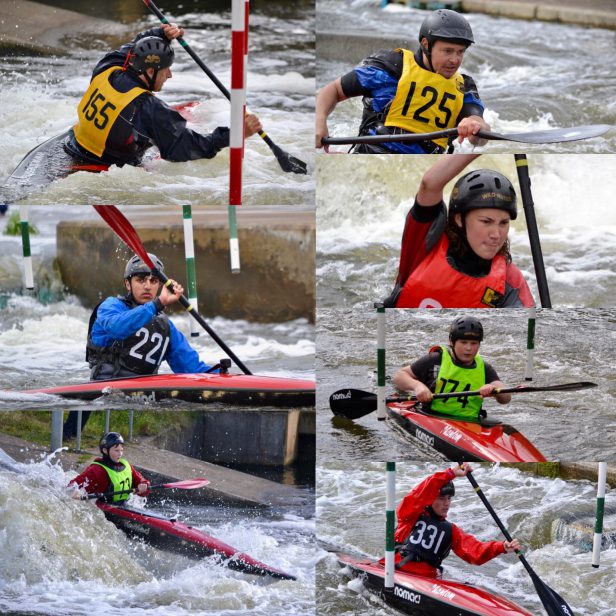 The Sharks had their best turn out at an event this weekend with seven Sharks racing at the Nene division 2 and 3 slalom and for some it was a big step up to the bigger waters of national ranking events.
Best performance of the weekend goes to Khaleel Zainddin, who took a fantastic 4th place in Sunday's event, with very good firtst run, picking up just two penalties. On Saturday he was the top division 3 Shark paddler with a 10th place finish.
Jacob Simpson, who was only racing on Saturday,  was just one place behind Khaleel in this event, which was his first race on water this big, a great performance
Sam Liddy was racing his first division 3 slalom since his promotion at Harefield in August came 15th on Saturday, on the biggest water he has paddled on.
Alex Aldred, was also racing in his first division 3 event since promotion at a Harefield, like Sam taking a big step up.
Both Alex and Sam learnt canoe with The Sharks this year, neither had ever paddled before. The Sharks will teach you, coach you and provide all the kit. Why not come along and join in the excitement, the thrill and the fun? Contact Neal on 07951 770241 or email: canoeing@thesharks.org.uk for more information.
In the division 2 competition the battle for the top Shark was between James Read and veteran Neal Underwood.
On Saturday it was James who took the honours, with a 16th place finish, on Sunday he had to settle for 25th place.
On Sunday it was Neal's turn to be top Shark. Racing his first division 2 slalom for two years, he came 21st on Saturday and 19th on Sunday, with a clear first fun.
For Sunday's competition. the team was joined by The Sharks top female paddler, Amelia Combes, who took tenth spot.
Next up for The Sharks in Slalom will be Grant Underwood, who will race in the division 1 event at the Tees on 15th October. The season will draw to a close with a division 2 and division 3 event at Shepperton on the weekend of 21st and 22nd October: www.thesharks.org.uk/shepperton-division-23-slalom.
But before that it will be Conor Sheehan who races for the Sharks in a marathon event at Elmbridge next weekend. www.thesharks.org.uk/elmbridge-marathon-2017.